This page is closed and is not accepting further donations
Recent donations
£10.00
So impressed by your amazing efforts and achievements with your workout!
£10.00
Brilliant effort Trevor! And a great cause!
£10.00
Brilliant effort Trevor! And a great cause!
2 years ago
Moira Ella Parsons
£45.00

Trevor's Workout for Waste Warriors
Event dates: 1st November 2021 – 30th November 2021
Trevor Leahong is raising money for CLEAR Community
My story
I'm a Trustee of CLEAR and I'm asking you to sponsor me for each km. I cycle in November or to donate a global sum. I'm aiming to cycle 150km. I'll update my progress on this page via Strava. Why not join us by starting your own fundraising page here? Enjoy exercise and support this vital project at the same time!
Everything you raise or give will be used to help expand CLEAR's programme with villages in Java to create more teams of Waste Warriors who will take a lead on managing waste banks for recycling and establishing sustainable waste practices, including tackling the massive problem of plastic waste in the sea and on land. Help us to stop Indonesia being the 2nd largest polluter of plastics to oceans in the world and to protect the natural beauty and habitat of the islands!
---
Thank you for checking out my page. Making a donation is fast, easy and secure thanks to Give as you Live Donate. They'll take your donation and pass it onto CLEAR Community.
My updates
2 years ago
Hi folks - I've completed my November #Workout4Waste Warriors! Please make your donations as my page remains OPEN. I cycled a total of 72.4 km (not all of my rides have come through on the Strava link). That's about half of my target - I've been limited by a hernia - so I've also done a total of 6 hours of Yoga and 5 hours of Tai Chi. Thank you for your support!
0m distance
1:30:00 time
0:00min/km speed
0m distance
1:30:00 time
0:00min/km speed
2 years ago
Tai Chi class
0m distance
1:15:00 time
0:00min/km speed
0m distance
1:15:00 time
0:00min/km speed
Trevor Leahong is fundraising as part of
Workout4WasteWarriors
1st November 2021 - 30th November 2021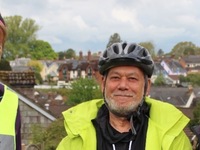 Powered by

5 1 . 0 km Total distance
More great ways you can raise funds