Recent donations
1 week ago
Jayda, Maiya & Ollie
£5.00
Grandad Mark/Turks Forever in our hearts, miss you always!
Maggie Cassel. Always in our thoughts.
Barry Boyce. Always in our thoughts.
In loving memory of Jerry and Alice Grainger much loved parents and grandparents - forever in our thoughts
£10.00
Remembering and always missing my mum Miss Henny from the Leslie family. Gone but never ever forgotten🙏🏾 S.I.H.P
2 weeks ago
Wolverhampton Caribbean Community Memorial Trust
£50.00
Remembering All Of Our Loved Ones
1 month ago
Lorraine McCarthy
£5.00
Lauren Dennis, a beloved Daughter missed by mom and dad xx

Tree of Remembrance
Lorraine McCarthy, Peter Williams, Julie Hickman, Stuart Williams, Gail Reynolds, Richard Walton, Sasha Hollingsworth and Stewart Ross are raising money for Wolverhampton Rotary Club Charitable Trust
---
Share this page with your friends:
Our story
The Rotary Club of the City of Wolverhampton has been organising the Tree of Remembrance in the City centre since Christmas 2003. In that time over £100,000 has been raised for City charities while, at the same time, providing people the opportunity to remember lost loved ones in their Christmas celebrations.
The charities benefitting this year are The Rotary Club of Wolverhampton Charitable Trust, Compton Care, which aids people with complex incurable conditions, Wolverhampton MS Therapy and Oxygen Centre and SSAFA (The Armed Forces Charity).
If you would like to take part please provide the name(s) of the loved one(s) you wish to remember including a short 10 word message (minimum £5.00 donation per name). Messages will be copied to appear in Wolverhampton Express and Star newspaper in the weeks leading up to Christmas and in the Remembrance area in the Wulfrun Centre, Cleveland St, Wolverhampton WV1 3HH until 5th January 2024 and appear on the Clubs website until Mid November.
---
Thank you for checking out our page. Making a donation is fast, easy and secure thanks to Give as you Live Donate. They'll take your donation and pass it onto Wolverhampton Rotary Club Charitable Trust.
Our updates
1 week ago
Many thanks to the Express & Star Wolverhampton for covering the launch and permitting the use of these photographs.
1 week ago
Since the Tree of Remembrance was launched on Saturday 18th November by City of Wolverhampton Mayor Councillor Dr Michael Hardacre over 200 people have posted messages to lost loved ones raising £1,340 so far. Many thanks for your kind donations.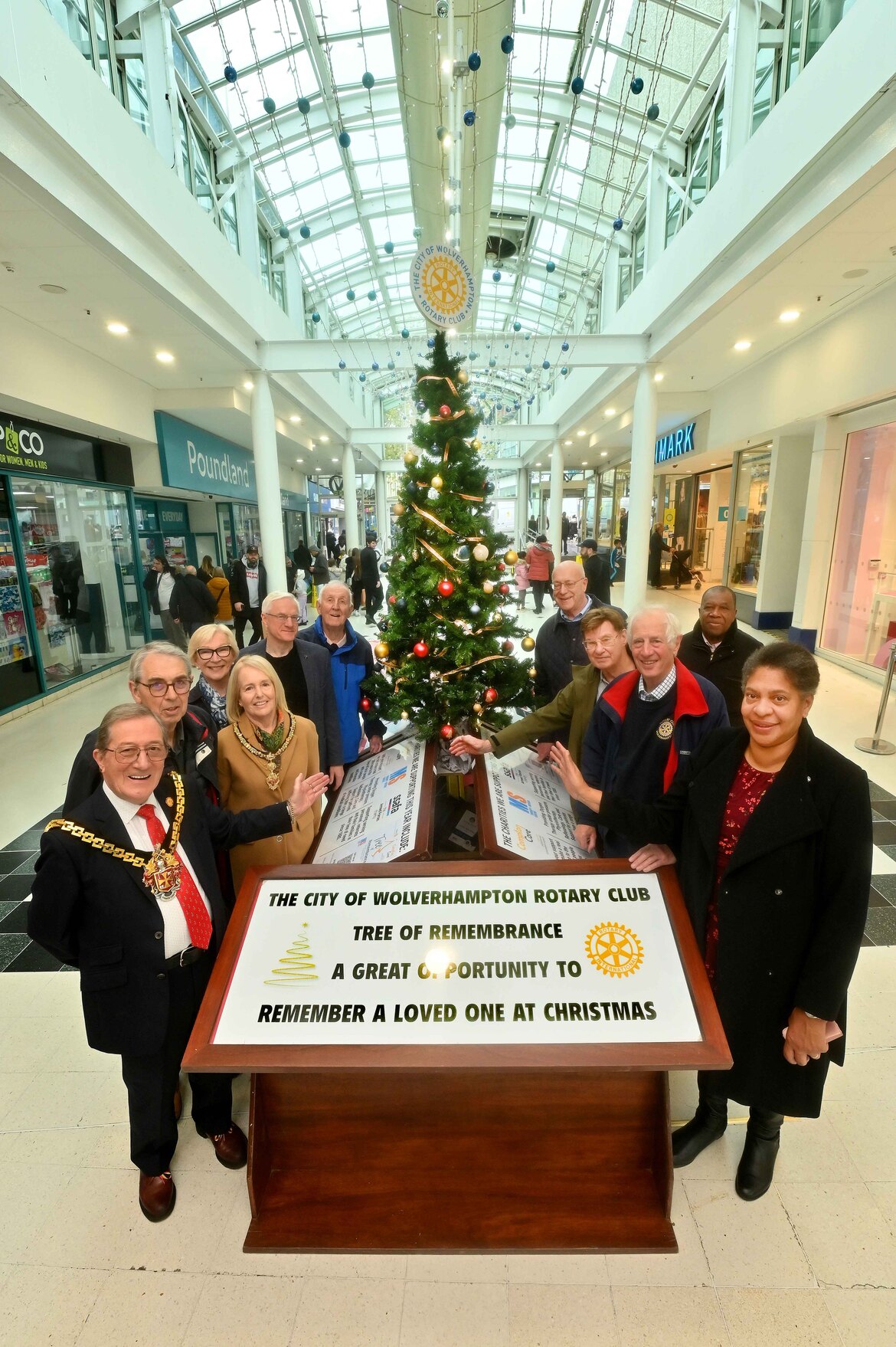 More great ways you can raise funds
Help us raise more
Your donations will help the great work Wolverhampton Rotary Club Charitable Trust do.
Donate now